Home
Dog Recipe's
Health
Rescue
Picture Page
Meet & Greet
In The Ring
Classifieds
Email us at BostonBoard@hotmail.com


Welcome to the forth issue of
The Boston Board Newsletter.
We have created this newsletter to be a informative publication for all Boston Terrier owners. Every week we will have articles on Health, Showing, Rescue and even a Classified section.

If you have cute pictures or just pictures you want the world to see send them in for the Picture Page.

We also will have a Meet and Greet section for all new Boston owners.

Thank you,

Thomas & Pam Lowe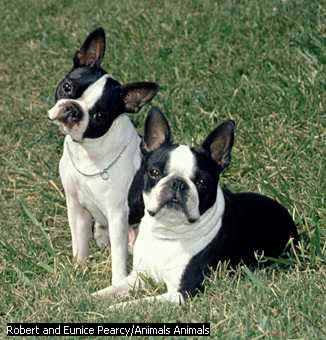 History of the Breed
Boston Terrier or Boston Bull, breed of non-sporting dog, originated by crossing an English bulldog with a white English terrier. The Boston terriers, recognized by the American Kennel Club as a distinct breed in 1893, are descended from a dog owned about 1884 by a native of Boston. The Boston terrier is a small dog, weighing about 7 to 11 kg (about 15 to 25 lb). It has a square, flat skull; large, round, dark eyes that are alert and intelligent; a smooth coat, usually brindle in color with white markings, or black with white markings; a short, square muzzle; small, thin ears; a wide chest; and a short, tapering tail. The Boston terrier is lively, strong, intelligent and gentle—an ideal pet.
Taken from the Encarta Encyclopedia 2000