Home
Dog Recipe's
Health
Rescue
Picture Page
Meet & Greet
In The Ring
Classifieds
Email us at BostonBoard@Hotmail.com
10/1 PAM'S PET PRODUCTS
Email: lesch@fmctc.com

Pam's Pet Products is a great place to get your personalized Boston Terrier Address labels. The labels are 1" by 2 5/8 " and are available in a multitude of colors, with 100's of graphics and pictures available, so the possibilities are endless. I can even put a picture of your Boston on the labels !! So email for more information and we'll talk labels !!

10/15 Deb's Bandanna's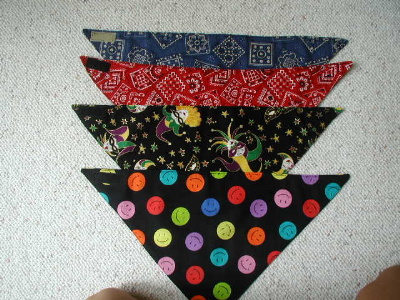 Email: jjjing92@aol.com
I am pleased to announce that I have made a "special on line album." All the photos in this album are bandannas that I have made and am selling to help raise money for my BT rescue group. $1.00 of each bandanna sale, will go to BT Helps. These are truly unique bandannas. Each has velcro as the fastner as this is much safer. I have lots of different fabrics and patterns. They are double sided and topstitchd and lay on your doggie or kitty with little wrinkling. I have large, medium and sm/medium sizes. Large fitting up to a 19-20 inch neck, medium up to 16-17 inch neck and sm/medium up to 12-13 inch neck. Pricing is $4.00 for large and $3.00 for medium and sm/medium, unless specifically marked!! Quantity is limited, so it is first come first serve for sales unless I can get more of the fabric you may want. Please stop by and check them all out! http://www.imagestation.com/album/?id=4292386761.
If You Would Like to Submit a Ad